I am feeling much better now.
I have gotten a whole bunch of stuff in the mail recently.
1 and 2) A skirt I've been eyeing for some time went on sale at Anthropologie, so I bought two to try on: one in charcoal, one dark orange. I absolutely love full skirts. I'm not talking A-line, which actually aren't that flattering on me, but really full, pleats all around, skirts. The fact that they are a fine wale corduroy that is ultra soft and thin, but sturdy enough to hold up its own weight instead of drooping, really seals the deal. Both colors look amazing with my skin, so I'm keeping both. I have a tough time finding clothes that fit my exacting criteria, so there's justification enough for me.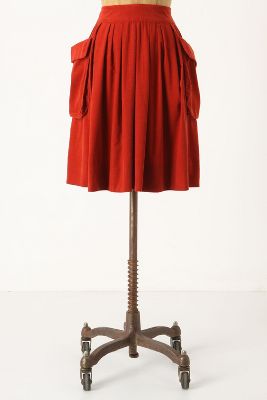 And they have HUGE pockets on the sides for even more volume (which makes my curvy waist look even smaller)!
I fucking love giant pockets! O_O